Monographs
Look up publications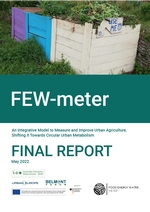 The FEW-meter project was developed by an international consortium comprising researchers, practitioners, and associations in the urban agriculture sector from five countries: France, Germany, Poland, the UK, and the US. The project was funded under the Sustainable Urbanization Global Initiative (SUGI), Food-Water- Energy Nexus call, established by a Joint Programming Initiative of the Belmont Forum and Urban Europe. The consortium´s submission proposed to investigate the FEW-nexus in urban agriculture.
At the core of our project is the collaboration between researchers, farmers and gardeners. We invited associations to cooperate, such as the Polish Allotment Gardeners Association, the German Landesverband Westfalen und Lippe der Kleingärtner, which represent allotments holders in the regions of these countries where some case studies are located, Jardin des Eglantiers - a local French allotment garden association, Social Farms & Gardens (the UK charity representing community gardens and city farms), and Green City Force (a US-based organization training young people from low-income social housing communities to farm). Their insights, experience and dedication were invaluable and enabled the co-production of new knowledge. They supported the recruitment of case studies, participated in workshops and, together with farmers and gardeners from our case studies, provided constructive feedback for the development of the project's methodology and data analysis.
This report presents the main outcomes of the three-year FEW-meter project.
[« back]