Edited volumes
Look up publications
Spatial Planning Systems and Practices in Europe: A Comparative Perspective on Continuity and Changes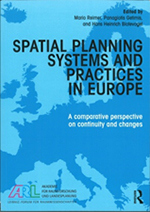 Ideal for students and practitioners working in spatial planning, the Europeanization of planning agendas and regional policy in general Spatial Planning Systems and Practices in Europe develops a systematic methodological framework to analyze changes in planning systems throughout Europe. The main aim of the book is to delineate the coexistence of continuity and change and of convergence and divergence with regard to planning practices across Europe.
Based on the work of experts on spatial planning from twelve European countries the authors underline the specific and context-dependent variety and disparateness of planning transformation, focusing on
the main objectives of the changes,
the driving forces behind them and the main phases and turning points,
the main agenda setting actors, and
the different planning modes and tools reflected in the different "policy and planning styles".
Along with a methodological framework the book includes twelve country case studies and the comparative conclusions covering a variety of planning systems of EU member states. According to the four "ideal types" of planning systems identified in the EU Compendium, at least two countries have been selected from each of the four different planning traditions:
regional-economic (France, Germany),
Urbanism (Greece, Italy),
comprehensive/integrated (Denmark ,Finland, Netherlands, Germany),
"land use planning" (UK, Czech Republic, Belgium/Flanders),
along with two additional case studies focusing on the recent developments in eastern European countries by looking at Poland and in southern Europe looking at Turkey.
[« back]