Edited volumes
Look up publications
Die finanzielle Seite der Raumentwicklung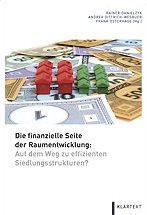 Die Auswirkungen der Siedlungsentwicklung auf den Gemeindehaushalt haben in Raumforschung und Planungspraxis in den letzten Jahren eine wachsende Aufmerksamkeit erfahren. Im Mittelpunkt steht hierbei die Frage, mit welchen einmaligen und laufenden Kosten die Siedlungstätigkeit in einer Kommune oder Region verbunden ist. Der Sammelband stellt Ergebnisse und Erfahrungen der aktuellen Fachdiskussion vor. Er fördert den Austausch zwischen unterschiedlichen Forschungsansätzen und regt eine weitere Auseinandersetzung mit den fiskalischen Effekten der Siedlungsentwicklung in Deutschland an.
Inhaltsübersicht:
Fred Baumgartner: Raumentwicklung kostet?! Eine kohärente Raumordnungspolitik, der Schlüssel zu einer kostensparenden Raumplanung
Stefan Raetz und Robin Denstorff: Die finanzielle Seite der Raumentwicklung. Eine Sichtweise der kommunalen Ebene
Thomas Bleier: Fiskalische Betrachtung der Raumentwicklung aus Sicht eines Projektentwicklers
Robert W. Burchell, Anthony Downs, Samuel Seskin and Terry Moore: The Costs of Sprawl in the United States 2000 to 2025
Stefan Suter, André Müller und Heini Sommer: Siedlungsentwicklung und Infrastrukturkosten. Forschungsergebnisse aus der Schweiz
Stefan Siedentop: Regionale Infrastrukturkostenrechnung. Methodischer Ansatz und Ergebnisse einer Pilotanwendung in der Region Havelland-Fläming
Jens-Martin Gutsche: Die "Kosten der Zersiedelung" im Bauausschuss. Eine persönliche Zwischenbilanz
Jürgen Wixforth: Ertragreiche Ansiedlungspolitik? Empirische Analysen im Stadt-Umland-Kontext
Stephan Mitschang: Ökonomische Aspekte des Stadtumbaus
Andrea Dittrich-Wesbuer, Karsten Rusche und Achim Tack: Stadtumbau und Infrastruktursysteme. Folgen des demographischen Wandels auf die Abwasserinfrastruktur
Dirk Löhr: Ökonomische Instrumente zur Lenkung der Siedlungsentwicklung
Marion Klemme und Klaus Selle: Geld spielt keine Rolle? Fiskalische Aspekte der Siedlungsentwicklung in kommunalen Planungs- und Entscheidungsprozessen.
[« back]